We Do Words was established by Gordon Campbell and Kristen Erskine in 2015 to provide editing services to academia, industry and government.
Gordon is an IPEd accredited editor. Kristen has extensive experience as a copyeditor and proofreader.
Copyediting for academic journals. Since 2015, We Do Words has copyedited more than a hundred manuscripts for the Journal of Bioethical Inquiry.
Writing for Primary Health Tasmania. Writing and editing stories based on interview transcripts as part of the Shared Transfer of Care project,
Alt Text for Macmillan Education. Alternative text for images in a number of social science eBooks (translating visual information into text in compliance with WCAG).
Editing for LexisNexis. Substantive editing / copyediting of Construction Law for LexisNexis publishers.
Vocational education and training. Development and editing of nationally recognised units and qualifications for the construction and property industries.
Educational development and delivery in the university sector. Development and editing of curricula and learning material for face-to-face and online courses.
We Do Words has developed websites, created marketing material, coordinated social media communication, written grant applications and research reports, and delivered training programs and workshops.

We Do Words can
ensure your punctuation, spelling, grammar and style are correct and consistent

rewrite sentences to improve flow and clarity

do more extensive rewriting and restructuring

write original content

conduct research

take on whole of project management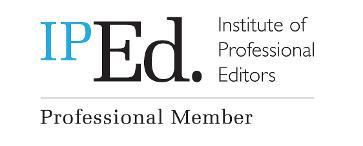 Gordon did a wonderful job! I was on a tight deadline and he was able to meet it with flying colors despite our 18 hour time difference. He told me he would have it to me by the time I woke up and he fulfilled his commitment! His writing was not only timely, but creative as well which is something I needed. He also communicated well with me. I wouldn't hesitate to use him again!
— Aspen Edge Consulting
I manage a restaurant for a hospitality and tourism training institution, and it is important that our operations manual is user-friendly. Kristen did an excellent job updating this. As well as correcting mistakes, she rewrote and reorganised some sections to make them clearer and more understandable. She worked closely with me to make sure she was communicating the right message. I'd be very happy to work with her again and recommend her to anyone needing friendly and efficient help with any kind of writing.
— Katy D
.
I really think you guys did an excellent job copy editing the paper! My coauthors and I really appreciate your time and effort. Even though we already had put major effort in writing the manuscript, your suggestions helped to improve it. I am happy to keep your company in mind, and recommend it to others, if the need for editing arises in the future.
Thank you so much and keep up the great work.
Best wishes from Germany.

—Dr Wagner
I was extremely impressed with Gordon's work. I was putting together a job application and contacted Gordon to talk through what he might be able to do to support me. He offered to have a quick look, free of charge, to see if he did, in fact, have anything to contribute! He got back in touch with me quickly and suggested he could 'add value' - so I approved his work. He proceeded to find a number of small fiddly errors that I'd overlooked and did a final tidy up of the whole application. I am really pleased with the quality of his work. He was reliable, competent, fast and very friendly.
— Janet